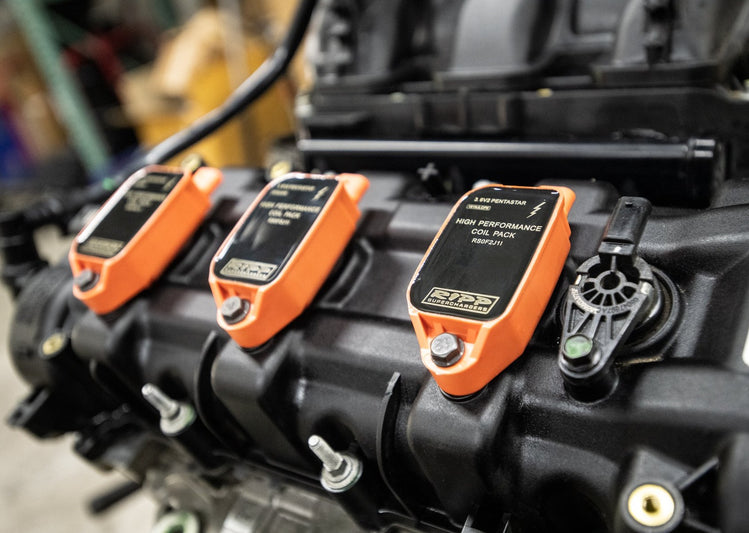 Description
Tech Specs
Downloads
Related Products
More Media
Reviews
Please see the list below to confirm that this component is compatible with your vehicle year, make, and model.
The RIPP High Performance Coil Packs for the 3.6L Pentastar engines - the ultimate solution for those seeking maximum power gain without sacrificing reliability. Designed with state-of-the-art technology, our coil pack generates significantly more spark energy for each individual spark plug during the combustion cycle than the stock/OEM coils, resulting in an efficient and powerful performance.

The RIPP coil pack has been extensively tested and proven to deliver reliable performance under extreme load at lower and higher RPM. With the added benefit of higher MPG, you can enjoy enhanced power without sacrificing fuel efficiency. Upgrade to the RIPP High Performance Coil Pack for the ultimate power boost without compromising on reliability.
How do we do it?!
Our coil pack is engineered from the ground up with higher quality materials and an increased amount of windings (turn ratio), providing a boost in millijoule power to the spark plug. With a stronger spark, cylinder flame speed is increased thus adding up to 15-20hp. With this increased power output, you can expect a more responsive throttle input and a better driving experience overall. (for more technical information please see the tech notes on the bottom of the page.)
100% Compatible with supercharged and non-supercharged engines.
100% Bolt-on. NO MODIFICATIONS NECESSARY  
Features:
10% More Power than OEM coilpacks
Direct swap with oem, plug and play
Highest quality internal components and finish
MOPAR ORANGE high temperature heat resistant outer housing and boot. 

Supercharged or naturally aspirated, the coil packs can be used in either variation!

Includes all 6 coilpacks

Improved Throttle Response
Improved Power
Improved MPG

No Tuning Required!!

Direct Bolt On Installation - Simply remove and replace.
Heavy duty primary core winding.
Higher quality Iron core with stronger laminations.
Increased amount of secondary core windings. 

Precision, Heavy Duty Spool to promote Orthocycling winding and mitigate wild winding. 

Sustained power delivery even at high RPM operation
High Density Polymer Orange Housing. 

Heavy Duty, high-temperature, epoxy filled housing resists shock and  vibration. Our dielectric compound completely penetrates coil windings assuring perfect insulation even upon exposure to high voltage conditions. Engineered to resist humidity, wear, vibration, impact and chemicals such as gasoline, oils and brake fluids. Will not degrade or crack even under severe thermal cycling.
 Will fit the following vehicles equipped with the 3.6L V6 Pentastar Engine:
Dodge Durango (2016+ )
Dodge Grand Caravan (2016+ )

Dodge Journey (2016+ )

Jeep Cherokee (2016+ )

Jeep Grand Cherokee (2016+ )

Jeep Wrangler JL ( (2018+ )
Jeep Gladiator JT (2018+)
5th Gen Ram 1500 (2019+ )
Not sure if these coil packs will fit your vehicle? If you have a 3 - wire coil pack these are for you! If you have a 2 - wire coil pack see our Gen 1 3.6 Coil Packs Here
RIPP Technical information about cylinder Flame Speed and how an upgraded ignition system will directly effect power. 
Internal combustion engines, "flame speed" refers to the rate at which the air-fuel mixture burns during the combustion process. This speed significantly impacts engine performance and efficiency. The faster the flame speed, the more efficiently the engine can extract energy from the fuel, resulting in increased cylinder pressure. When the spark is hotter, it ignites the air-fuel mixture more rapidly, leading to faster combustion, and an increase in pressure. Higher cylinder pressure = more torque to push down on the piston.

As the flame front propagates faster across the combustion chamber, the fuel burns more efficiently, releasing more energy. This, in turn, enhances the engine's power and responsiveness. Additionally, with a faster flame speed, the combustion process is completed sooner, reducing the chance of incomplete burn or unburned hydrocarbons being released into the exhaust gases.

In summary, optimizing the flame speed by utilizing more spark energy can significantly improve engine performance. It enables the engine to operate more efficiently, delivering increased power output, improved fuel economy.