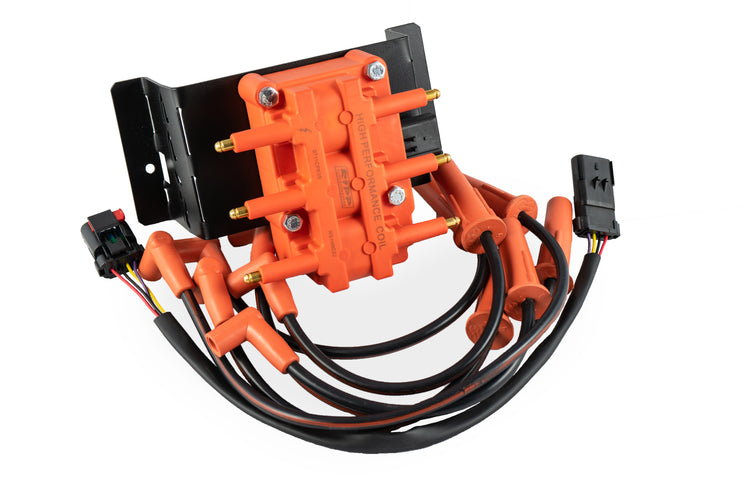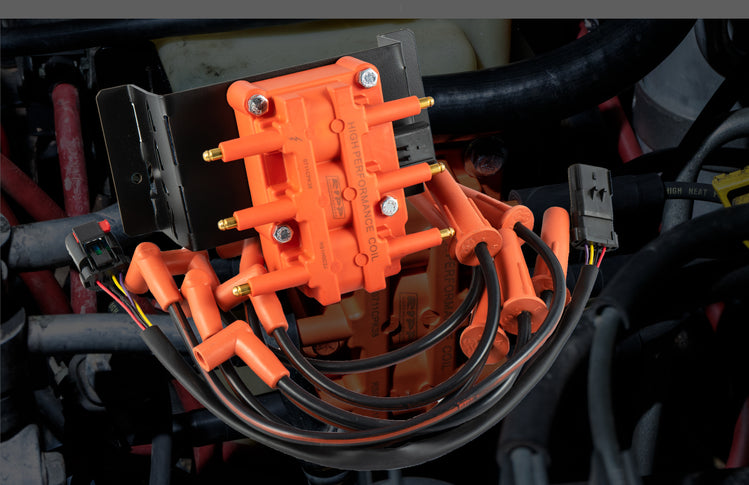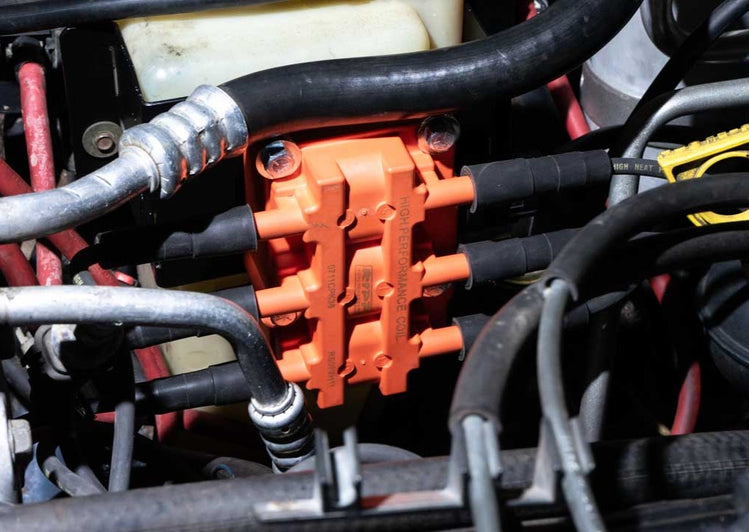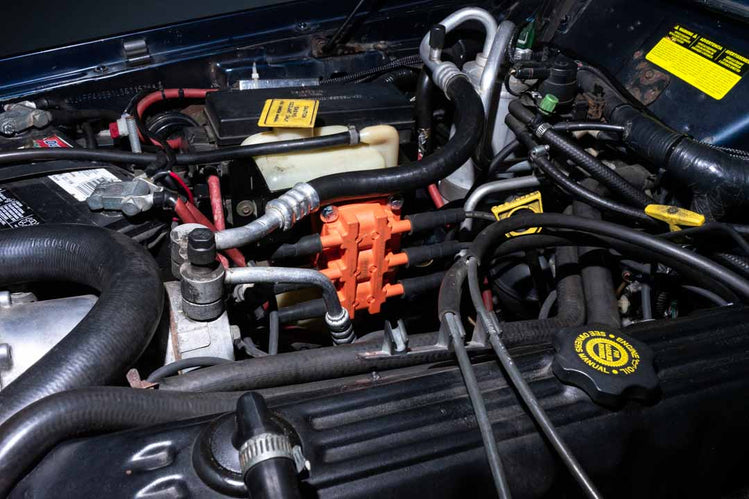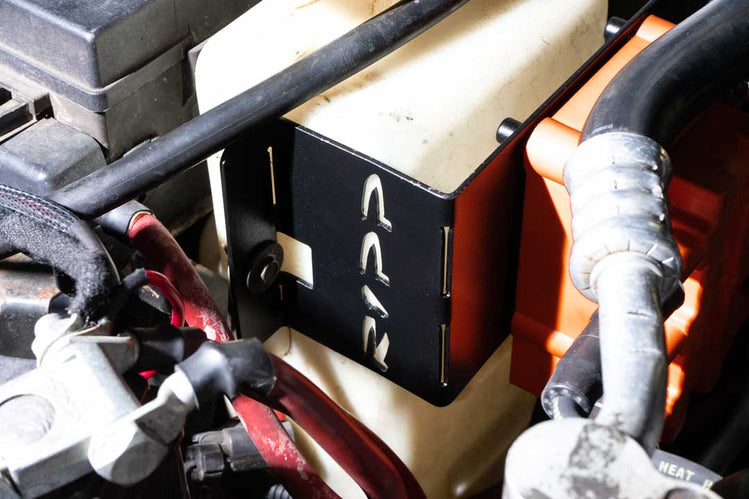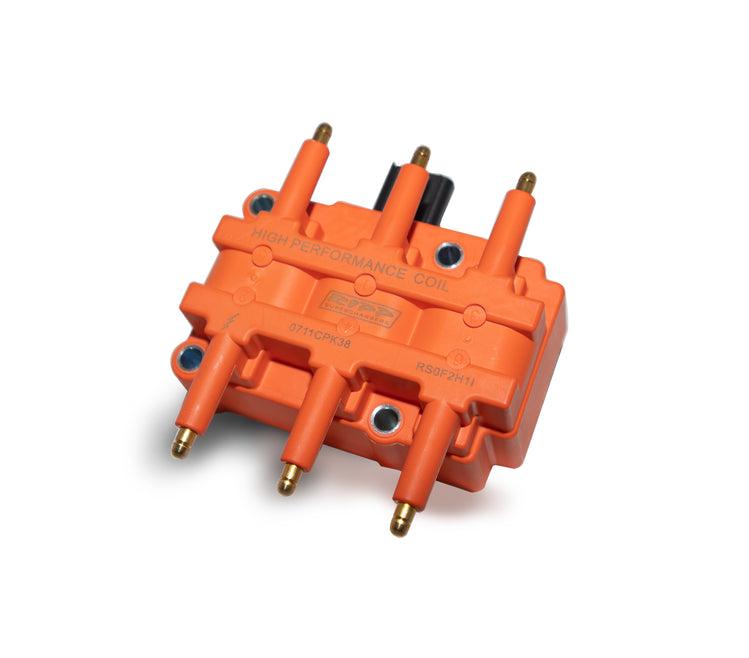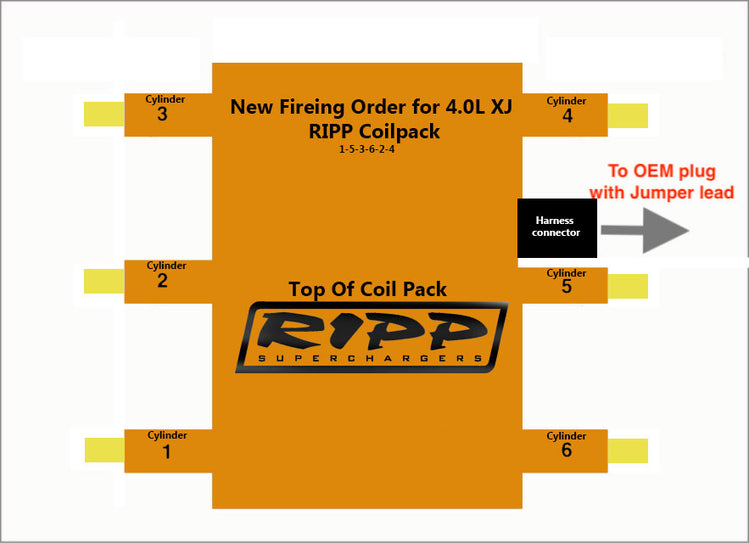 Description
Tech Specs
Downloads
Related Products
More Media
Reviews
This is a full coilpack conversion kit
The RIPP Coilpack kit will remove your stock coil rail and convert your ignition system to a 6 post coil body. The remote mounted coil body will use RIPP spark plug wires to connect coil to spark plug. This is a complete plug and play system, bolt-on and go! Installation time is about 1.5hr. 
This conversion kit will include: 
1- RIPP High Performance Coilpack
1- RIPP Coilpack mounting bracket 
1- RIPP converter harness
1- RIPP Spark Plug Wire set.
-------------------------------------------------------------------------------------------
Coilpack features:

The RIPP Performance Coil Pack is specifically designed for the 4.0L I6 found in your Jeep Wrangler.  Compared to the factory coil pack rail this RIPP Performance Coil Pack puts out 31% more power! What's this mean for you? More horsepower! The spark plug receives more needed energy that will result in a more complete burn inside the combustion chamber, yielding more power, better gas mileage and a better throttle response with every revolution. On average a net wheel HP gain of 8-10 horsepower can achieved with this one modification. When paired with RIPP High Performance Ignition Wires you'll be installing the very best ignition components in your Jeep. 

31% More Power than OEM coilpacks
Direct swap with oem, plug and play
Highest quality internal components and finish
MOPAR ORANGE high temperature heat resistant outer housing and boot.
Supercharged or naturally aspirated, the coil packs can be used in either variation!
Improved Throttle Response
Improved MPG
No Tuning Required!!
Direct Bolt On Installation - Simply remove and replace.
Heavy duty primary core winding.
Higher quality Iron core with stronger laminations.
Increased amount of secondary core windings.
Sustained power delivery even at high RPM operation
High Density Polymer Orange Housing.
Heavy Duty, high-temperature, epoxy filled housing resists shock and vibration. Our dielectric compound completely penetrates coil windings assuring perfect insulation even upon exposure to high voltage conditions. Engineered to resist humidity, wear, vibration, impact and chemicals such as gasoline, oils and brake fluids. Will not degrade or crack even under severe thermal cycling.

Spark Plug Wire features:
When shopping for a replacement spark plug wire you want the best you can buy. But with the 4.0 they need to hit a few key features and the RIPP High Performance Wire Set does just that.

The internal wire needs to have less resistance to carry more voltage to the spark plug to increase spark capacity. This will result in a much better burn quality when you really need it.
The internal shielding needs to be high quality to avoid interference with on-board electronics.
The outer shielding needs to be high quality and have a high heat resistance to carry the voltage.
RIPP ignition wires use very high quality silicone boots and coatings that resist heat.
OEM Mopar wires use graphite fibers as a conductor, these are loaded with resistance, resulting in major energy loss. RIPP wires use a spiral wound, heavy duty, steel core conductor.  With minimal resistance they deliver maximum amount of power from your coil pack to spark plugs.
NGK spark plug features:

Economical performance and improved ignitability over standard Spark Plugs original equipment manufacturer and racer approved.

Lowers ignition system voltage requirements
Greater ignitability and performance over conventional spark plugs
Trivalent Metal Plating has superior anti-corrosion and anti-seizing properties
Increased fuel economy and lower emissions
Highly durable against electrical and chemical wear
Good performance spark plug
INSTALLATION NOTES: USE THE FIRING ORDER DIRECTIONS ON THE BOX. DISREGARD NUMBERED POST ON THE COILPACK.
The firing order on a 4.0L is 153624