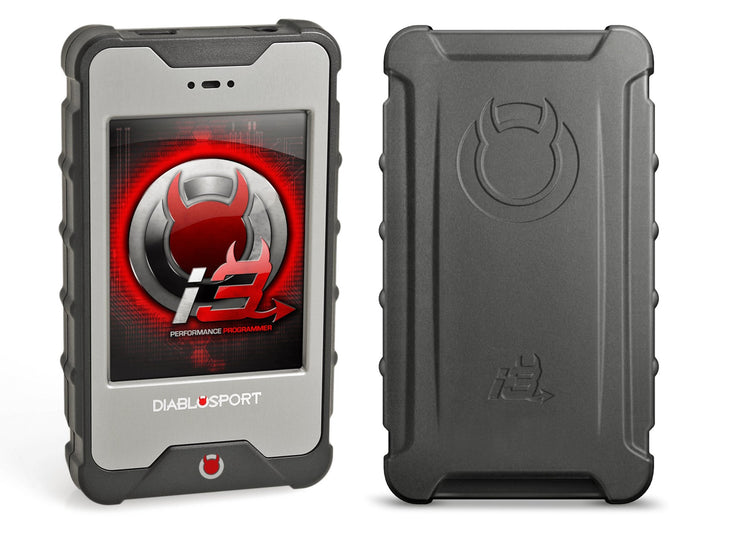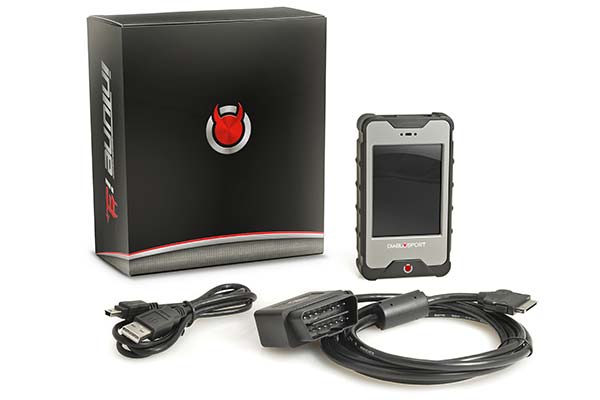 Description
Tech Specs
Downloads
Related Products
More Media
Reviews
In stock
This tuner is for PRE-PROGRRAMMED for RIPP SUPERCHARGER KITS ONLY and ONLY Works with RIPP Fuel Injectors and Map Sensor.
Works for:
07-11 Jeep Wrangler JK 3.8
12-18 Jeep Wrangler JK 3.6
18-21 Wrangler JL 3.6
19-21 Gladiator JT 3.6
09-11 Dodge HEMI RAM 5.7
11-15 Jeep Grand Cherokee 5.7
12-18 Jeep Grand Cherokee 6.4
11-15 Dodge Durango 5.7
 
The Diablo inTune (i3) is a state-of-the art, high performance tuning flash programmer in a sleek handheld design. Once connected to the vehicle, the i3 internal computer recognizes the vehicles PCM and automatically picks the proper tuning files designed specifically for that PCM. Inside the i3's memory are the actual tuning files that optimize spark timing and air/fuel ratio curves. The transmission parameters are remapped to improve the shift characteristics such as shift firmness and shift points. Unlike other 'tuners', DiabloSport's programming is performed in very small increments throughout the entire RPM range, for a smoother, wider and a more predictable power delivery. DiabloSport engineers spend many hours on the dyno, street and track to ensure the tunes provided with the i3 are the best they can be and are updatable online.
The i3 can hold custom tunes* made by any CMR dealer nationwide, the upload process is less than 30sec. This makes the i3 a valuable product to have. If you tuned your vehicle from stock and like the power your car is producing, most likely you will start adding modifications to your car as time goes on. Good thing you have a i3 because you can go to any of our CMR dealers and get a custom tune for your exact modification setup. Your car will run better, faster and get the best gas mileage that can be achieved for that particular modification setup.
The i3 features end user adjustable parameters so the end user can customize their tune depending on other modifications done to the vehicle utilizing a dyno with proper air fuel monitoring and utilizing the i3 live data feature to monitor timing and other vital parameters.
 inTune i3 Features:
– New "Easy Tune" Mode for Simple Installation
– Dyno Tested Performance Programs
– Blazing Fast Vehicle Read/Write Times
– Windows, Mac OSX and Linux Connectivity
– OBD-II Data Logging
– Read and Clear DTC
– Purchase Multi-Vehicle Licenses
– 50-State Legal Tuning Available

– 

1 year tuning support / data logging / diagnostic help from RIPP 
Emissions
Federal and several state and provincial laws prohibit the removal, modification or rendering inoperative of any part that affects emissions or safety on motor vehicles used on public streets or highways. RIPP Superchargers / RAND Solutions assumes no liability for any violations arising out of any federal, state or provincial emissions or safety requirements on motor vehicles arising out of the customer's modifications and/or use of RIPP Superchargers products. It is the responsibility of the customer to determine if their modified vehicle complies with applicable laws.
California Residents
Certain California Vehicle Code sections prohibit the advertising, sale, offering for sale, or installation of any add-on or modified aftermarket part for on- or off road highway vehicles that modifies a California vehicles emission control system unless it is exempted by CARB.